VR Casino From Microgaming: the Future Has Come
Microgaming is a company that's always been a true innovator in the universe of online casinos. It was the first one to present an Internet gambling platform back in 1994. It's not surprising that this software vendor for the Internet gambling also became the first to offer such innovative product as the VR casino.
Only a couple years ago the virtual-reality technology was considered a rarity. But today thanks to rapid advances in technology and massive spread of gadgets, almost everyone can access an artificial world.
All IT giants invest huge sums of money in developing new technology solutions and creating real innovations. Gambling industry pays special attention to recent trends, and so has seen a great development potential in virtual reality.
VR products destroy old patterns and allow going beyond the current possibilities. Therefore, any player can visit a classic Las Vegas gambling club of the early 20th cent., or play in space with some alien. There're no limits except for the developer's fantasy.
Today we already witness a genuine interest in modern technologies, considering the rapid growth of the popularity of Internet clubs with live dealers and 3D modeling. As you've probably guessed, a new era of gambling world is gradually approaching since virtual reality is considerably superior to live casinos in terms of spectacularity and immersion in another environment.
A VR casino gives an opportunity to feel the very physical sensations of a person in a real casino. VR games feature even the most insignificant things: players are met by a hostess and will help you find a place in hall with a dealer sitting in front of him (it can be anyone: girl, man, robot). Some developers provide gamblers with an opportunity to have smoke or throw chips at a dealer.
If you'd like to surpass the competitors and be an operator that can offer an innovative product to players, contact Online Casino Market. You can buy VR casino software from this company and make use of professional services by installing the best solutions from world developers, Microgaming in particular, in your gambling club.
You'll get an opportunity to open a virtual reality casino right away and carve out a niche for yourself, thus becoming a market leader that offers advanced virtual casino game solutions.
VR is a computer technology that can be used to re-create any environment. A computer simulation of reality, the multimedia with the effect of presence – this phenomenon has a lot of names but the essence remains the same.
VR casino software will soon drastically change the current state of affairs in the universe of online gambling. The gamers will be provided with slots, tabletop type of gaming content, poker, and other joys of virtual reality casino, which are not easily so distinguishable from the real world. This interactive level of gaming experience should not be compared to even a mobile casino, which in due time caused a stir.
We can all remember how openly skeptical people were about gambling on smartphones. Today, every manufacturer has to consider the mobile market optimizing its software and games to IOS and Android.
We are seeing a similar picture today. Many continue to insist that VR has no future, that technology is expensive and will be interesting to no one. Be assured that these same people would be happy to burn the Copernicus again or to join the Inquisition, if they could.
The fact remains that anyone who has played a VR casino will want to repeat that experience again. Technology forges ahead, and if the virtual reality gadgets were really expensive before, today many manufacturers have released worthwhile models at the cost of an average smartphone, and the price will only go down.
According to the Goldman Sachs specialists, by the year 2025, the VR entertainment will bring about $110 billion annually. So that you can imagine the magnitude of this figure, here's a simple and illustrative example. Television today generates a total of $99 billion income. Given that it's gradually losing popularity, prospects for VR seem even brighter.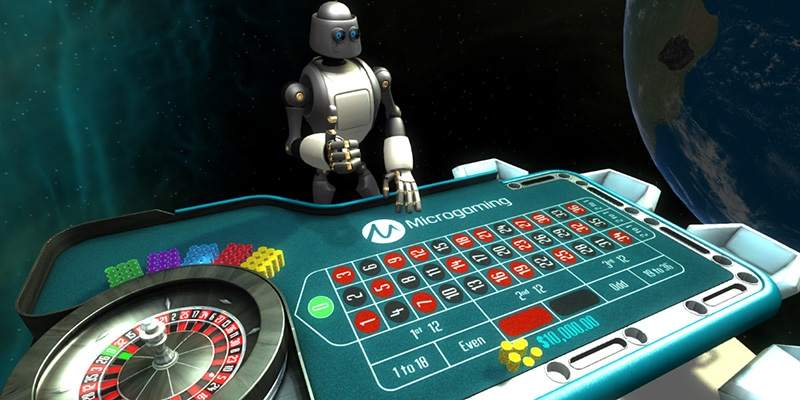 The Microgaming company shows the whole industry who owns the house once again. It was the first to develop a VR casino and introduce a fundamentally fresh product as early as February 2016 on the ICE TotallyGaming event. The company received an award for the best innovation of the year. Developers have begun to invest great money supplies in this brunch because they believe that VR gambling is our tomorrow. Since the company got it all right once, its intuition is credible.
A virtual reality casino and a virtual roulette were presented on the ICE Totally Gaming exhibition. VR technologies, modern 3D graphics capabilities, long list of advanced tools, and unique gameplay have immediately attracted the attention of many people.
The company's specialists made the best effort to refresh the usual entertainment and breathe new life into it. The extraordinary graphics and breathtaking gaming sensations conquered the hearts of those who were lucky enough to test the new product by visiting a VR casino.
This VR casino software has a huge potential that can be fully unlocked by the Oculus technologies.
For the most realistic sensations from a VR casino, you will need the following devices:
Oculus Rift DK2 (a special helmet used to immerse in the virtual world);
Leap Motion 3D controller (monitors the movement of hands and projects them into a virtual environment).
Every little thing has been given attention to in a game. Players need to take the chips and put them on the table. Plus, they will see the projection of their own hands in front of themselves, which adds to the intensity of sensations. While many developers do not focus attention on the sound content, the Microgaming decided to go another way and made the game atmosphere even more vivid and saturated.
Many years of developer experience allows creating games that can make gamblers to remain under the impression for a long time. Be assured that the new VR games from Microgaming will certainly be no exception to this rule.
The way a company used to present its new product is particularly noteworthy. A full-fledged futuristic laboratory equipped specifically for the event, was organized within the framework of the exhibit. At the time, developers had only one goal: to demonstrate the enormous potential of 3D technologies in the gambling industry. The Innovator of the Year award was another confirmation that they know what to do in Microgaming.
Don't wait for your competitors to be the first to feel the wind of change. If you want to be on a roll tomorrow, you have to act today. Nay, act right now! If you'd like to take a niche and develop a VR direction, you can order development of a virtual reality casino from Online Casino Market. Years of experience enabled the agency to collect the premium market offers and provide them to its client.
You'll be able to obtain a virtual casino game package or even buy a ready-made turnkey VR casino. If necessary, specialists are ready to consult you free of charge on any matter of interest.