Careca Akarue, CEO at Blockchain Consulting Ltd, About Importance of Education, Nationwide Blockchain Use and Future Prospects
More and more countries are getting interested in the blockchain and cryptocurrencies nationwide. This interest is quite reasonable: the application of blockchain-based solutions in government control not only significantly improves the economy but also the social sector and even national security. Careca Akarue, CEO at Blockchain Consulting Ltd, founder at Eurofly and ICO advisor, discussed these aspects in the interview with Blockchain & Bitcoin Conference Cyprus. He revealed prospects of the blockchain application nationwide, explained why Nigeria was the best option for innovative experiments as well as suggested what the cryptocurrency community could expect in 2018.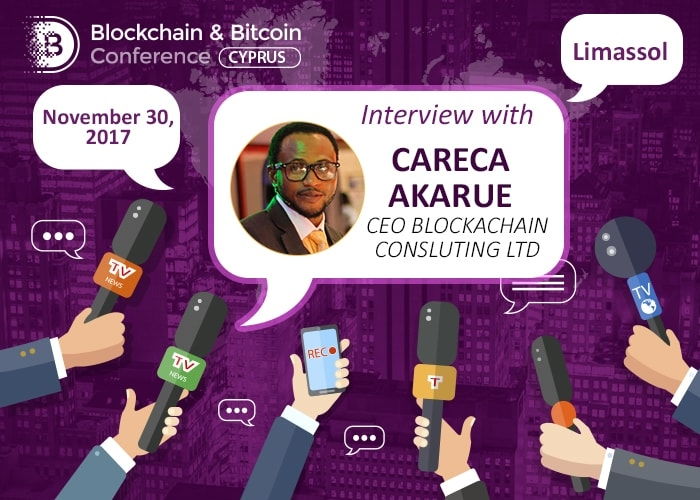 Careca, your company operates in Nigeria. Will you tell us about the level of blockchain adoption there? How well are ordinary people aware of the technology? Is blockchain implemented in business? Are state administration bodies looking into the technology? How well are ordinary people aware of the technology?
According to the data, ordinary people (especially network marketers) are indeed aware of bitcoin but not the necessary blockchain technology; generally ordinary people are… if they weren't, Bitcoin would not be valued at over $ 6,500 per BTC. The real issue is not asking if the ordinary person is necessarily aware of the technology, but, «Is the ordinary person capable of applying the technology in a business case?».
Currently, less than 5% of academic institutions in the world teach blockchain and/or smart-contract technologies, where do you think Nigeria will be in that equation? 0.1%, Coupled alongside a culture that is cryptic in nature and we see a very small percentage of individuals capable of applying the technology in a business sense.
But there is a craving for Ponzi schemes that rewards bitcoins and other cryptocurrencies which many perceive as blockchain. Education is key, and that why University of Eurushaga is designed to educate people on blockchain and crypto currencies.
Is blockchain implemented in business?
Few individuals to restructure businesses to integrate blockchain, and start-ups mostly trying to provide blockchain services. Are state administration bodies looking into the technology? Not really. the government is still skeptical.
What is the state of financial technologies in Nigeria? What percentage of people use plastic cards, online banking, and e-wallets?
I say it growing fast and especially in Lagos State, (20Millions) inhabitants. Most transactions in the country are done with cash, it remains the preferred medium for payment in the Nigeria, Generally, 90% of bank account holders have ATM cards (10% don't use it, and they don't know they are been charged), 35% account holders operate online banking, 5% e-wallet, please note 40% unbanked.
Please, tell me what impact the mass adoption of blockchain might have on the Nigeria economy in the future. Which improvements do you consider the most significant?
The mass-adoption of blockchain technology will have a tremendous impact in Nigeria. The barrier of access to financial services causes potential innovations to go under-funded, drastically reducing any ventures ability to fund activities that would otherwise create meaningful growth in their respective economies. Proliferation of blockchain technology creates a cheap and transparent solution to this problem and will allow for us to essentially leap-frog innovation and quickly capture emerging economic growth streams.
The two major improvements that are the most significant for the Nigeria is the ability to open up the average person to a network of global, cross-border payment channels that is cheap as well as the blockchains ability to increase the transparency of financial network activity both at the micro and macroeconomic levels.
P2P and mobile banking networks allow for the individual to rapidly access a global financial network. This means that innovative ventures in more remote regions are now able to get funding from the international community. More importantly, these individuals and communities can also receive this funding using a cheaper financial infrastructure, so they do not fall victim to predatory exchange rates that are often ridiculously expensive.
The blockchains ability to create transparency in an economic system are also of great value to the Nigeria because it creates economic stability. Viewing this transparency from the security domain, the blockchain can offer the government a way to have a better control and insight into the types of transactions that occur throughout the economy. This is extremely valuable in places where illicit transactions and supply-chain networks often subsidize negative growth activities using hand-to-hand transactions of fiat currency rather than mobile-to-mobile transactions of digital currency.
Although the blockchain is anonymized at the protocol layer, the technologies that deliver the blockchains functionality (mobile devices) to the user are not. This means that the government can identify illegal transactions on the blockchain and attribute identity to the transaction through mobile devices if need be, which is a powerful tool in tackling issues such as terrorism and drug/human trafficking financing.
In your opinion, is state regulation of cryptocurrencies and blockchain needed in Nigeria? Which country's model would you offer as a prototype?
Yes. It is important to note that the blockchain is a sociotechnical system, which means that in addition to the technical infrastructure that would need to be deployed, the blockchain also has a set of unique social impacts as well. In many cases, the social cases of applying blockchain technology to current economic systems and frameworks are the least understood and could potentially have negative consequences if not deployed correctly.
As with any emerging technology, it is important that the government at the federal level do not over-legislate and hurt their ability to nurture local innovation. An example of this would be making it extremely difficult for innovators to legally experiment with blockchain technology, which would hurt Nigerian as Giant of Africa in their ability capture emerging value as it is emerging.
From my team's research, I would recommend that Nigeria start assembling very wide regulation policy that is capable of being quickly tuned to the specific needs of each respective countries economic model. The importance of local governance and regulation will be paramount in having a well-balanced dynamic between local economies and state regulations.
In my professional opinion, Nigeria as being the best current economic model for pioneering these questions and identifying feasibility.
Have you studied the experience of Cyprus in the field of blockchain implementation? If yes, what did you find to be interesting and promising for using in Nigeria?
I have not studied the current initiatives being taken by Cyprus extensively enough to give a strong answer for the Nigeria Implementation.
In order for me to answer this question to the best of my ability, it would require me to research not only the country of Cyprus, but also the businesses involved, their initiatives, geography, trade-partnerships, and psychosocial dynamics of the economy itself. I believe you assist with that?
Cyprus is a country that favors blockchain startups, many foreign companies work here. Would you like to relocate your business here? Why?
Yes, if we have enabling environment!
Please, tell me in short what should happen in the Blockchain and cryptocurrency industry in 2018, in your opinion.
2018 represents the year of international collaboration, investment, and education.
Countries have the once-in-a-generation opportunity to come together under a common goal/project and capture the value of blockchain technology. Whether it is EuruFly or promising partners projects, the ability to collaborate over innovative substrates will be the hallmark of 2018.
Do you have any questions?
Contact an expert
Check the information used to contact us carefully. It is necessary for your safety.
Fraudsters can use contacts that look like ours to scam customers. Therefore, we ask you to enter only the addresses that are indicated on our official website.
Be careful! Our team is not responsible for the activities of persons using similar contact details.